Get on the SPF Guestlist and get in FREE before Midnight, by emailing your full name to:
superpartyfridays@gmail.com
FRIDAYS JUST GOT HOT!! YOU NEED S.P.F.!!
SPF = Super Party Fridays
Every Friday @ Orpheum
Vox in Verse
The Florida Jammers
SPECIAL GUEST DJ: GEORGE SKRAPITS of PULP the Party!
$1 Tequila Shots
$3 PBR Tall Boy w/ Tequila Shot!!!!
$3 Tequila Sunrise
$5 Johnny Vega (red bull, watermelon & tequila)
There is a new club night in Tampa! S.P.F (superpartyfridays) It is the craziest, sweatiest, awesomest night of the summer! Featuring VOX IN VERSE in their very first club residency alongside The FLA JAMMERS (DJ RIG & DJ LAZY). Electro, fidget, b-more, club crushers, glitch hop, sleaze and anything awesome is the rule and there will be no exceptions and no excuses not too shake your asses off. All that combined with crazy tequila drink specials from The Orpheum and special guest DJs are making this THE night to be at in Tampa. Go check out the S.P.F. myspace page and visit VOX IN VERSE page too!
Doors:
11pm
18 and up
http://www.myspace.com/superpartyfridays
http://www.myspace.com/voxinverse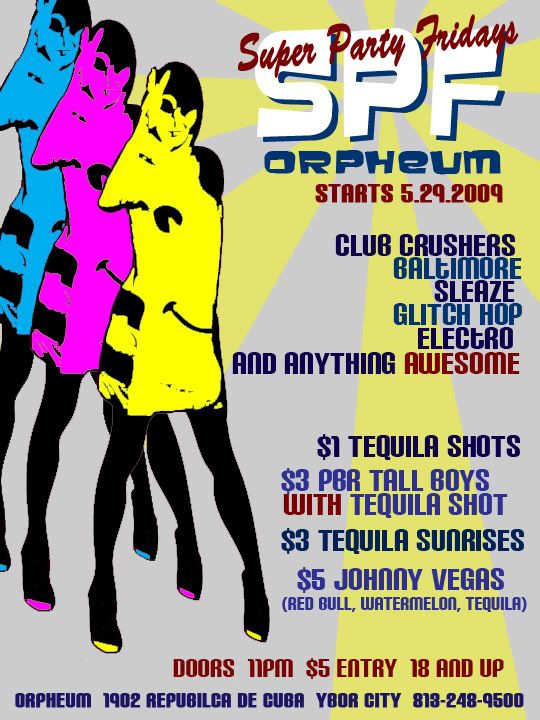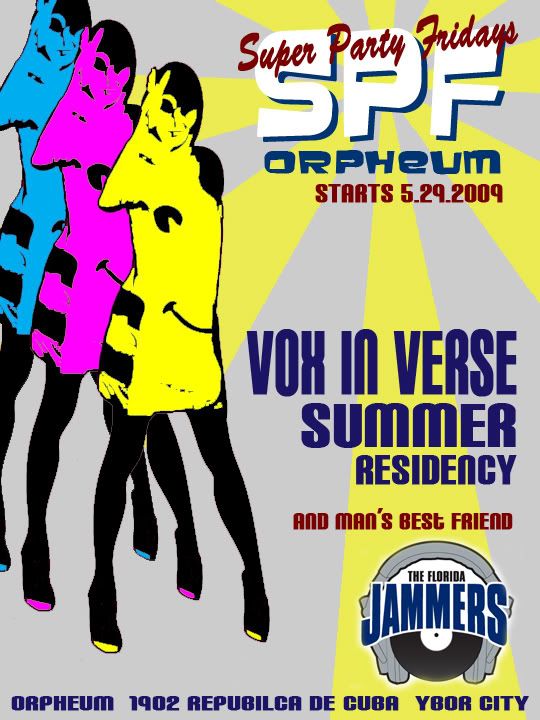 ..